Helsinki is located at about 60.18 degrees North (latitude) and 24.97 degrees East (longitude).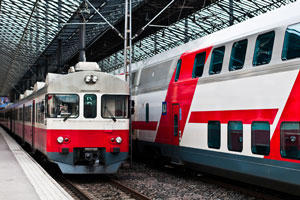 Located near the mouth of the river Vantaa, Helsinki is the capital of Finland and also its largest city. While it is the economic hub of Finland and generates about a third of its wealth, it's also known for a wide variety of other offerings including beautiful architecture, excellent cafes and restaurants, theaters and galleries, and plentiful shopping.
Because Finland's rich history includes being under the sovereign of both Sweden and Russia at different times, Swedish, Finnish, and Russian culture are evident here. There is a wide variety of architecture to be seen in Helsinki, from the neoclassic buildings designed by St. Petersburg architects to the modern architecture built by renowned Finnish architects.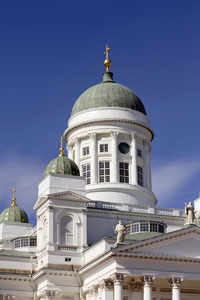 Visitors will enjoy viewing the many art nouveau buildings that were built during the early 1900s, as well as the stunning sports venues that were built for the canceled 1940 Olympics. Other buildings of note include Finlandia Hall, built by modern Finnish architect Alvar Aalto, and the Lutheran Cathedral, which is located in Senate Square. Senate Square is considered by many to be one of the most beautiful squares in Europe, and is also home to the imposing former senate building.
South Harbor is another lively hub and an area of interest for both residents and visitors. If you are looking for a place to shop or get a cup of coffee, South Harbor is the place to be with its many daily markets and cafes. It is also the location of the city's symbol, Ville Vallgren's Havis Amanda Fountain, which features a seductive mermaid. Those who would like to see the city of Helsinki from the water can also do so by arranging a boat tour from South Harbor.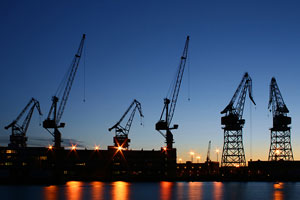 More upscale shopping is located on the Esplanaadikatu Boulevard, which can also be accessed from South Harbor. From here, visitors often make their way to Mannerheimintie, the main street that allows access to much of Helsinki's culture, including museums, art galleries, theaters, and concert halls.
In addition to offering a thriving city life, Helsinki also boasts a myriad of green parks for recreation or enjoying nature.
For more information about Helsinki, please visit the official Helsinki Visitor website.
---
Copyright © Map-Of-Finland.com. All rights reserved.

Helsinki Address Locator Map - Helsinki, Finland Map